At one time the City of Sudbury was, in addition to being a mining and forestry community, a largely agricultural based economy. Sudbury and surrounding communities were farming based and largely self sufficient in locally grown food production.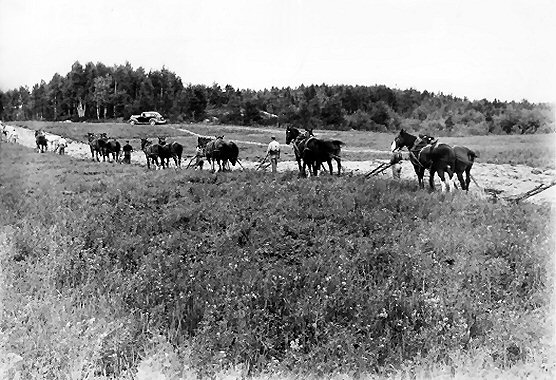 Here in 1947, a row of horses are tilling the spring soil for planting at the Burwash Federal correctional prison. While Burwash was a completely self contained community it did export its agricultural products for sale to Sudbury markets.

Today, Burwash is a military training ground that conducts house to house urban warfare and winter search and cordon exercises in conjunction with Camp Petawawa and the Canadian Forces Reserves. It still maintains Northern Ontario's largest herd of free ranging Elk.

While a local Sudbury Citizens Movement conducted feasibility studies on converting the abandoned land and buildings into a self sufficient intentional community in the 1980' s, the proposal did not become a reality. Photo:Ida Tuominen, in Garson.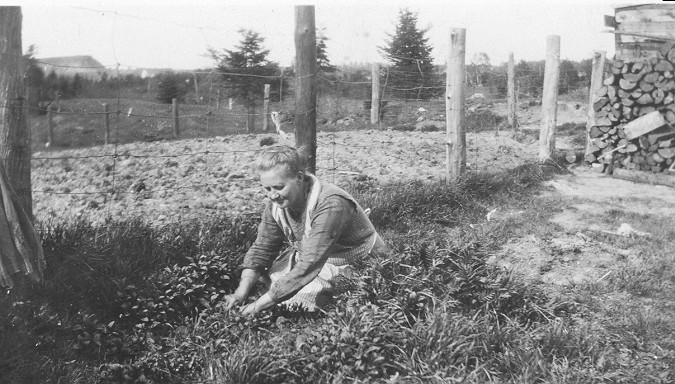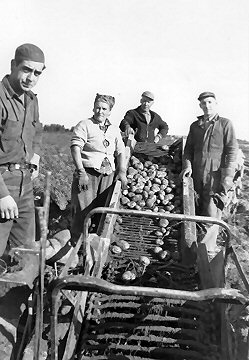 Certainly no New Zealand kiwi's or Florida oranges at the local dry goods store in the 1930's but fresh fish from Whitefish or blueberries from Coniston.

These photo's are from farming communities that once operated within a 100 mile radius of the city - what todays food security vernacular calls a locavore diet ( food produced within a 100 mile limit).
Pictured here are Emeril Quesnel, Alida Pharand,
Emile Ménard, and Adrien Pharand, working by hand in a Valley East Potato farm.




Not only was the local economy earth based in all aspects ( Nickel, Timber, Vegetables) it was also a cash-less economy, with opportunities for 'shopping' and a consumption based lifestyle few and far between.

Often, the general store, post office or company stores were the only 'commercial' credit based establishments available in the city.


In this photo from Hervé Berthiaume and Marie-JeanneVaillancourt, in Rayside Balfour a travelling salesman is leaving the lumber camps.


All photo's are from the Greater Sudbury Public Library Heritage Digital Alliances project and can be searched through the online database at Archive Photos'
Sphere: Related Content